About
Pastor is a software for storing all your passwords, website logins, serial numbers, etc. encrypted and password-protected. With built-in password generator.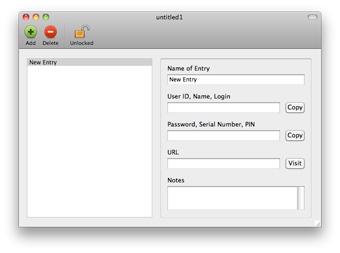 System Requirements
Any Apple computer running Mac OS X 10.2 or later. Not compatible with macOS 10.13 or later.
Download
Pastor 1.8.2 (Pastor182-signed.dmg, 6.2 MB)

For 10.7.x and lower
Pastor 1.8.2 (Pastor182.dmg, 4.3 MB)


Installation
Drag Pastor to the Applications folder on your Mac OS X disk.


Donationware
Pastor is Donationware. Pay any amount Pastor is worth to you or use it for free.
You can donate through PayPal or Kagi by clicking on one of the buttons below:




Version History
View complete version history
FAQ / Help
Problems using Pastor? View a list of frequently asked questions